Book YOUR
FREE Consultation
Get natural looking results and expert care
At Aventus Clinic we offer the most advanced treatments carried out by expert doctors, providing the highest quality care and an exclusive experience. We want to help you feel more confident and take care to ensure that our clients receive the best possible service, with all treatments tailored to your individual needs.
We go above and beyond to ensure our clients are pleased with their treatments, ensuring the highest standard of care and the most natural results.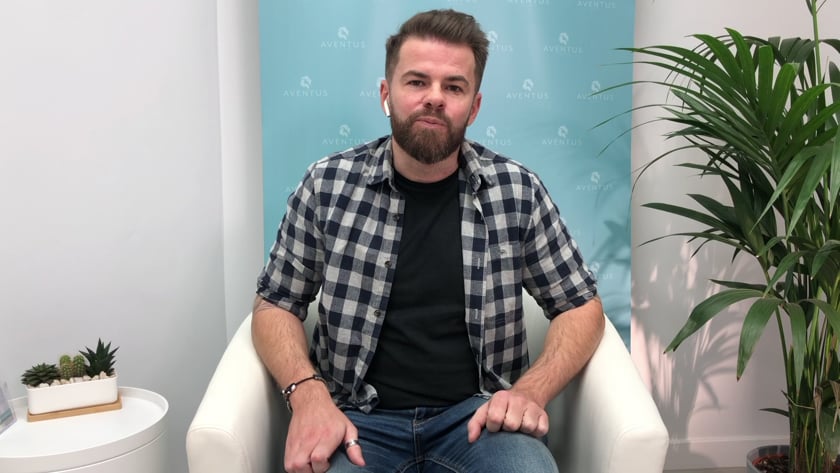 Hair Transformation
A World Class Medical Team to Get Your Hair Back
"Owen came to see us in Feb 2020 with concerns about his ongoing hair loss. He is busy travelling for work, he loves to play music and entertain. He was becoming increasingly worried about his hair when performing on stage.

It was beginning to affect his confidence and general well being, he had resorted to wearing a baseball cap all the time. Due to his busy lifestyle he wasn't able to arrange any treatment for his hair loss in the past. The time was right now, to get this sorted out! He went looking for a good, reliable clinic that was easily accessible.

Owen came to Aventus Clinic and had a consultation with Dr Alam. Owen had quite extensive hair loss and this was obviously causing him some distress, Dr Alam offered a combination surgical and medical treatments for hair restoration. Owen had a FUE hair transplant and or oral medication. "
"Tom came to us in January 2020. He was living with his fiance and their beloved cat at the time.

Tom was getting married in the summer and wanted to look his absolute best for his big day. He was not happy with his receding hairline, this was becoming increasing visible in pictures and videos.

Tom's barber recommended Aventus Clinic for the quality of care and great results. Tom saw Dr Alam who discussed all his options and the best treatment to achieve his goal. Tom had a FUE hair transplant

Tom got Married in August 2020 and is super happy with this hair. He says "It's the best money I have spent!"
Patient's Results 100% Natural & Safe
Male Hair Transplant Case
Male Hair Transplant Case
Male Hair Transplant Case
Hair Transplant Treatments
Follicular Unit Extraction (FUE)
Follicular Unit Extraction (FUE) is at the pinnacle of hair transplant treatments currently available. This procedure is favoured by our clients and high profile celebrities, such as Gordon Ramsay and Louis Walsh, for its undeniable results and how minimally invasive it is, as it leaves little to no scarring.
What Patients say about us
"Aventus is an extremely clean and proficient clinic. I felt very well looked after and I'm over the moon with the results (now 4 months after the operation). The staff are well trained, professional, and very comforting. Highly recommended."
"Can't recommend Aventus Clinic highly enough. I've had a hair transplant before in Turkey around 7 years ago and needed another doing as I've experienced other hair fall out. The experience I have had is 10/10 a lot better than the turkey experience…The after care is amazing and you don't ever feel like a burden. I can already feel my hair thicken. Definitely recommend Aventus Clinic and the positive thing is it's UK based and very reasonable pricing!"
"I've just had a hair procedure completed here and so far very impressed. The team are very attentive and professional, the clinic is like a 5 star hotel and the procedure itself was very easy. I was sent home with pre-op package containing everything I need and the team are very efficient in keeping in touch. Thanks Aventus"
"I had FUE hair transplant performed by Dr Alam. I am very pleased with my results a year on since surgery. The consultation pre and post op was excellent, all my questions were answered, Dr Alam was very diligent in planning the op based on my needs and requirements. Very professional and great post op follow up and care. Would highly recommend!"
In FUE, natural groups of 1-4 hairs are harvested from the head and transplanted to the area of your scalp where you are experiencing hair loss. Donor sites tend to be from the sides or back of the head, with hair follicles then being implanted into the new site. Careful consideration of hair volume, angle and colouring is taken to ensure the best possible hair match to cover balding areas and achieve the fullest, most natural look.
Frequently Asked Questions
Is a FUE hair transplant permanent?
FUE hair transplants are permanent in that transplanted hair follicles will maintain their quality even when transplanted to an area of hair loss.
This hair can be treated in the same way as the rest of your other hair in every aspect from washing it to cutting it.
Will I need more than one FUE hair transplant procedure?
While FUE hair transplants are 'permanent', the main difficulty with hair loss is that it is typically an ongoing issue, meaning that while your transplanted hair will remain, other hair around this area may continue to thin. In these cases you might then wish to have a further FUE hair transplant to allow you to regrow these other areas of hair loss. Typically, patients are willing to have further FUE hair transplants to replace hair that is lost from other areas of the scalp after their initial surgery. However, as we are limited by our sources of donor hair to use in transplants, maintenance of existing hair is integral to slowing overall hair loss. Using hair loss medications and serums alongside your FUE hair transplant is therefore vital to preventing further thinning and sustaining hair in the long-term. Equally, while advanced methods mean that we are able to transplant hair in greater volume, it is often impossible to achieve the volume of the original hair. This is due to the fact that concentrated incisions would leave too much trauma to the scalp, preventing the skin and hair from healing well. Because of this, it is common to have more than one FUE hair transplant over your journey to hair restoration, with this helping clients achieve a fuller appearance.
One of the reasons that FUE is so popular is because it is much less invasive than something like FUT. A local anesthetic is administered for the procedure, with a majority of clients experiencing no pain at all despite being conscious. While you may experience some minor discomfort during your first few days of recovery, this is minimal and the potential for further health complications following FUE is very low.
What is the difference between FUE and FUT?
During FUT the surgeon removes a section of skin from the back of the head and obtains hair follicles from this for the transplant.
However, the nature of this procedure means that it can leave a rather specific type of scar along the back of the head where the area of skin has been taken from.However, FUE hair transplants are a much less invasive procedure than FUT, with individual hair follicles instead being taken directly from the scalp. Often, hair donor follicles are taken from the back of the neck and relocated to the new section of the scalp so as to create a similar pattern to the hair that previously grew there. The best thing about FUE is that it leaves minimal scarring, with recovery time being days as opposed to the multiple weeks that it can take for FUT scars to fully heal.
On the whole, many patients prefer the FUE hair transplant method to FUT, with it being a less painful, more effective and refined procedure and allowing clients to achieve a more natural result.
Should I have a FUE hair transplant?
The best treatment for your hair loss will depend on a number of factors like the pattern of your hair thinning and your family history. However, one of the key things that makes you an ideal candidate for the procedure is having enough hair growth at the back and sides of the head to ensure there are enough hair follicles to act as a donor. Likewise, other elements like texture and colour will impact the final appearance.
What Is The Success Rate Of FUE Hair Transplant?
FUE has a success rate of over 95%. However, this is highly dependent on the skills of the surgeon performing the operation. Choosing a reputable clinic with an experienced surgeon is the best way to maximise your chances of success.
Does FUE Hair Transplant Work?
FUE is a highly effective hair loss solution, consistently outperforming alternative treatments. While most men will notice a major improvement with FUE, some candidates are more suitable than others. The most important criteria is having enough donor hair on the back and sides of your head. The colour and consistency of your hair will also affect the final result.
How Much Does FUE Hair Transplant Cost?
FUE prices vary greatly depending on the number of follicles that need to be extracted. Some clinics will charge per graft, while others will charge a flat rate for different levels of procedure. Generally speaking, you should expect to pay at least £3,000 for an FUE hair transplant. Cheaper procedures are available, but these are usually not performed by reputable surgeons.
MBBS, MRCGP, PGCME, FHEA, FRSPH
Medical Director
Senior Physician Associate
Are you ready to feel confident about your hair again?
Talk to one of our Hair Restoration experts today!
Book your FREE consultation today!
If you've got any questions, message us, we will get in touch